December 04, 2022
Lamb Lollipops with Black Cherry Gastrique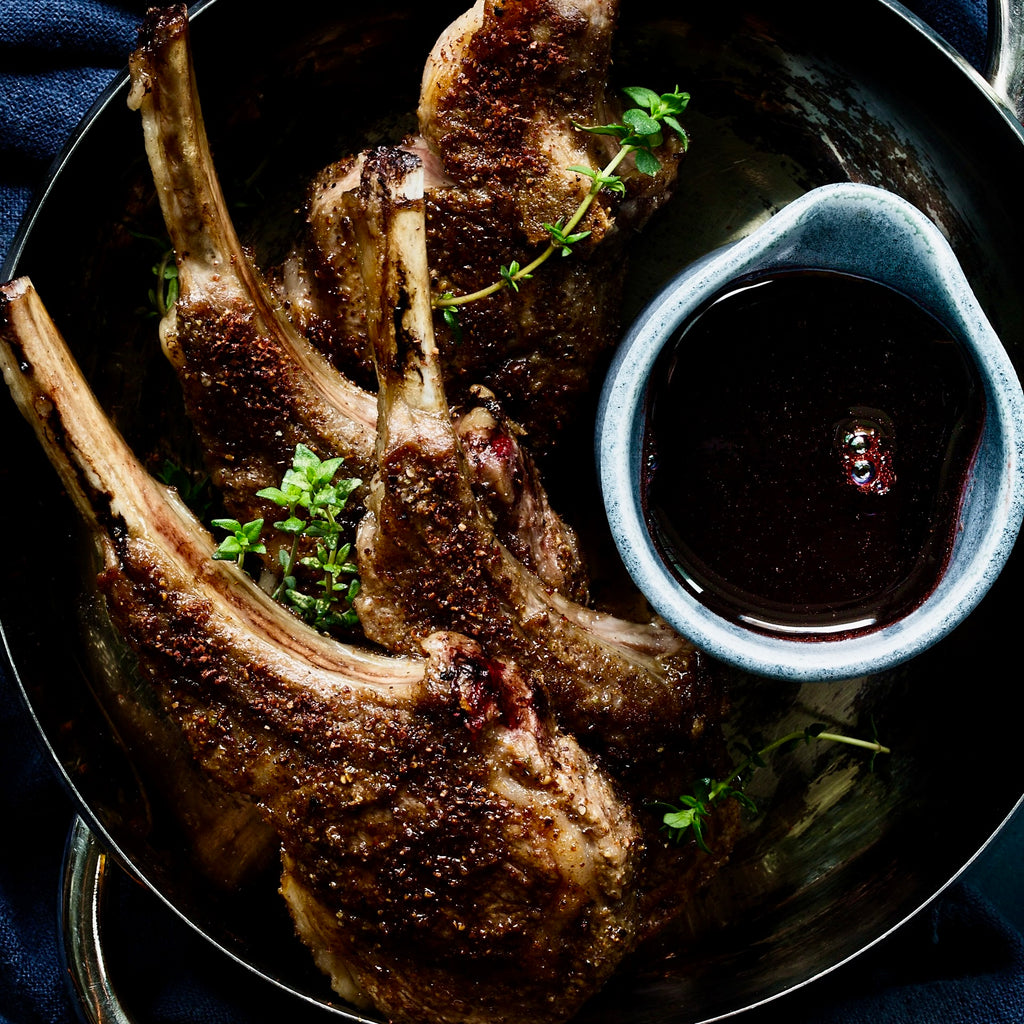 When used in this way, the word lollipop is a shorthand reference to the ease this preparation affords when eating by hand. Formally known as a "Frenched" chop or even employed to prepare entire Frenched rack of lamb, it describes a chop where all fat, meat, and cartilage is stripped from the bone for presentation purposes. I've selected this recipe to share with you from our friend and colleague, Emily, because it highlights both Cherry Balsamic Vinegar, and Lemon Agrumato Olive Oil.
I hope you enjoy making it. Happy Cooking!  ~Liz
For true lamb lovers, these lollipops really could be a meal in themselves. It's quite a primal dish in that you're eating meat straight off the bone, but these are so tender, not to mention bite-size, that they're as elegant as they are caveman-like. If you don't use all the yummy cherry gastrique, try spooning it over ice cream, whisking it into barbecue sauce, or enjoying it on its own. The Lemon infused olive oil and Apricot white balsamic vinegar in the marinade create a sweetness in the meat without overpowering it, so the meat shines through.
Serves two–four 
Lamb Lollipops
10–12 lamb loin chops, bone in and frenched
¼ cup plus 2 Tbsp lemon olive oil, divided
2 Tbsp Apricot white balsamic vinegar [we used Rosato Balsamic Vinegar instead]
2 tsp freshly grated ginger
Sea salt and cracked black pepper
Gastrique
2 cups fresh pitted cherries, or frozen and thawed
¾ cup brown sugar, packed
½ cup dry red wine
½ cup Black Cherry dark balsamic vinegar [we used Amarena Cherry Balsamic Vinegar]
2 tsp ground sumac
1 tsp ground ginger
1 Tbsp chopped fresh thyme leaves
Preparation
To prepare the lamb, pat dry the chops with paper towel. Place them on a parchment-lined baking pan or in a roasting pan.
In a small bowl, whisk together ¼ cup of the olive oil, the Apricot [or Rosato] balsamic, and fresh ginger. Rub the mixture into both sides of the lamb chops, cover with plastic wrap, and transfer to the fridge to marinate for at least 1 hour, or up to overnight.
You can make the gastrique up to 3 weeks ahead of time and store it in the fridge in an airtight container. In a small saucepan over medium heat, place the cherries, sugar, wine, and vinegar. Bring to a low boil then turn down the heat to medium-low and, stirring occasionally to prevent sticking and gently mashing the berries to extract any extra juices, simmer for 20 minutes, until the sauce has reduced by half. Remove from the heat and allow to cool to room temperature. Place the cooled sauce in a blender and blend for 2–3 minutes, until you have a smooth, thin, lump-free sauce. The gastrique should easily coat the back of a spoon. If it's too watery, place it back in the saucepan and simmer for an additional 10 minutes, stirring occasionally.
Heat a frying pan over medium-high heat and drizzle in the remaining 2 Tbsp olive oil. In a small bowl, stir together the sumac and ground ginger and set aside. Remove the lamb chops from the marinade, shaking off any excess, and sprinkle each side with a little of the sumac-ginger mixture. Fry the chops for 2 minutes per side, browning the meat and searing in the juices. Do this in batches so you don't overcrowd the pan. Sprinkle the freshly cooked chops with the thyme leaves and let them rest for 5 minutes before serving. Serve with a drizzle of black cherry gastrique. Pour the remaining gastrique into a small dish so guests can add more if they like. 
The image of Lamb Lollipops with Black Cherry Gastrique and this recipe is from page 77 of Greece:  Recipes for Olive Oil and Vinegar Lovers© 2017, Emily Lycopolus. Reprinted with the permission of TouchWood Editions.