December 07, 2022
Chocolate Peanut Butter Tart with Pure Flake Sea Salt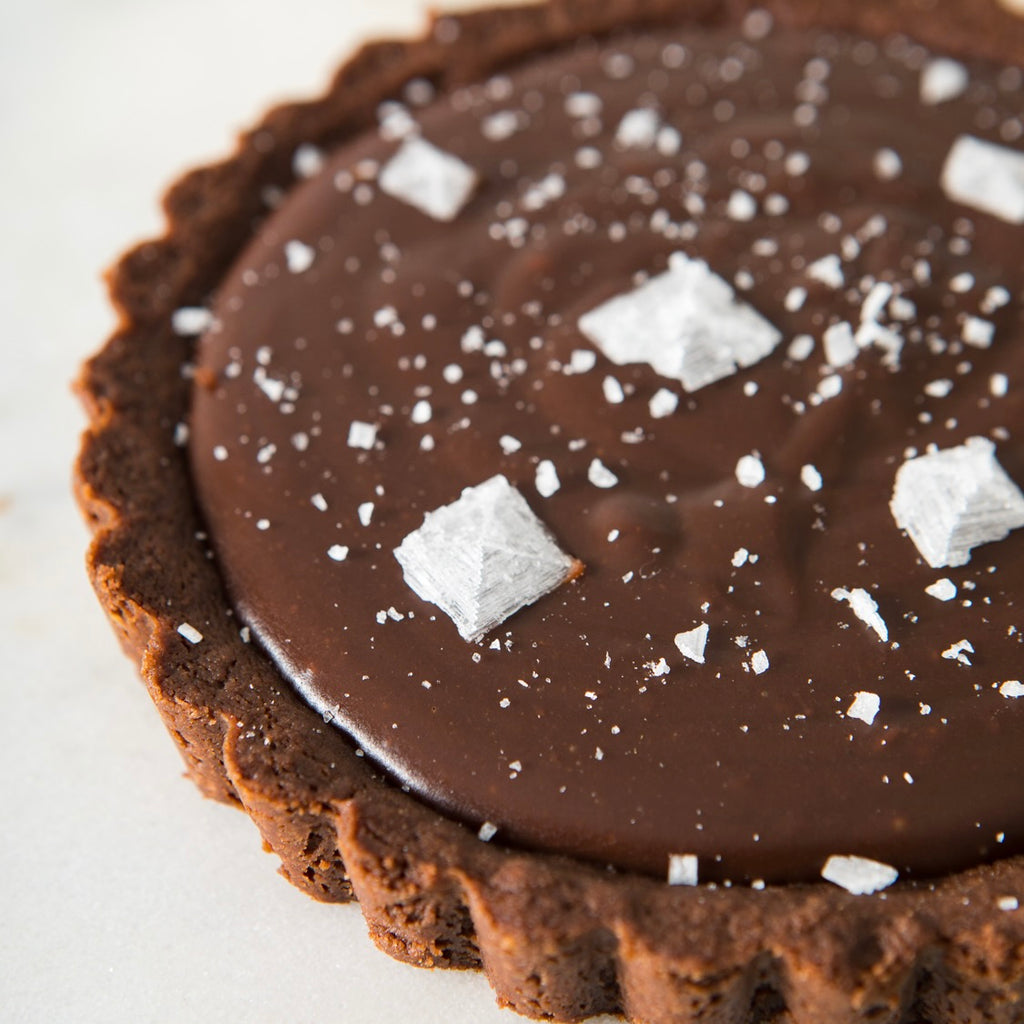 It was the image above from Jacobsen Salt Company that lured me to read and imagine this recipe. If you've splurged on the flake salt, this shiny dark chocolate tart offers a stunning culinary and visual foil to those geometric wonders, and one can only imagine the crunch of salt against the smooth chocolatey filling.
We've not yet made it ourselves, however, simply could not wait to share as it also calls for ¼ of honey, and both salt and honey are on special in our shop this week.
If you haven't or won't be splurging on the flake salt, keep in mind that you can use regular Jacobsen Kosher Sea Salt for this, too. It will taste the same. The kosher salt canister is the same salt, just smaller pieces; in other words it has all the flavor just with less drama. These tarts are on my wishlist for Donald to try this holiday, hopefully in both the original Alison Roman version with tahini as well as Jacobsen Salt's peanut butter substitute (hmmm what about almond butter?). Leave a message in the comments about which you've tried or are going to try.  - Liz
Yield one 9" (24 cm) tart or four 4" (12 cm) tartlets
INGREDIENTS
Crust
Filling
PROCESS
Preheat oven to 350˚F.
To make the crust, mix all the dry ingredients together in a large bowl or in a food processor. Add the melted butter and mix to combine. The texture will be soft. Press into a 9" tart pan, springform pan or pie tin, making sure the bottom is even and the crust comes at least 1 inch up the sides.
Bake 15-20 minutes until the crust has lost its oily sheen and looks dry. The crust will puff slightly but will settle down as it cools. You don't need to cover and use weights as you would for other blind baked crusts. Set crust aside and let cool. The crust can be made up to 2 days ahead and stored in the refrigerator.
To make the filling, place chopped chocolate, honey, peanut butter, Pure Kosher Sea Salt in a large bowl. Scald the cream in a small to medium heavy bottomed saucepan. You want the cream to be just simmering, not a roiling boil. Pour cream over chocolate and let sit for about 2 minutes to let the cream melt the chocolate a bit. Using a wooden spoon or whisk, stir the chocolate until it becomes smooth and shiny. This will take a minute or two.
Pour the filling into the prepared crust and sprinkle with Pure Flake Sea Salt. Let the tart set for at least 2 hours at room temperature or 1 hour in the fridge before serving.
Tart can be made 1 day ahead and left at room temperature or in the fridge if your kitchen is too warm.
The image of the chocolate tart is courtesy of Jacobsen Salt Company photographer Nolan Calisch. The original recipe is from page 269 of Dining In© 2017, Alison Roman. Reprinted with the permission of Clarkson Potter Publishers.