December 20, 2022
Spiced Cranberry Olive Oil Cake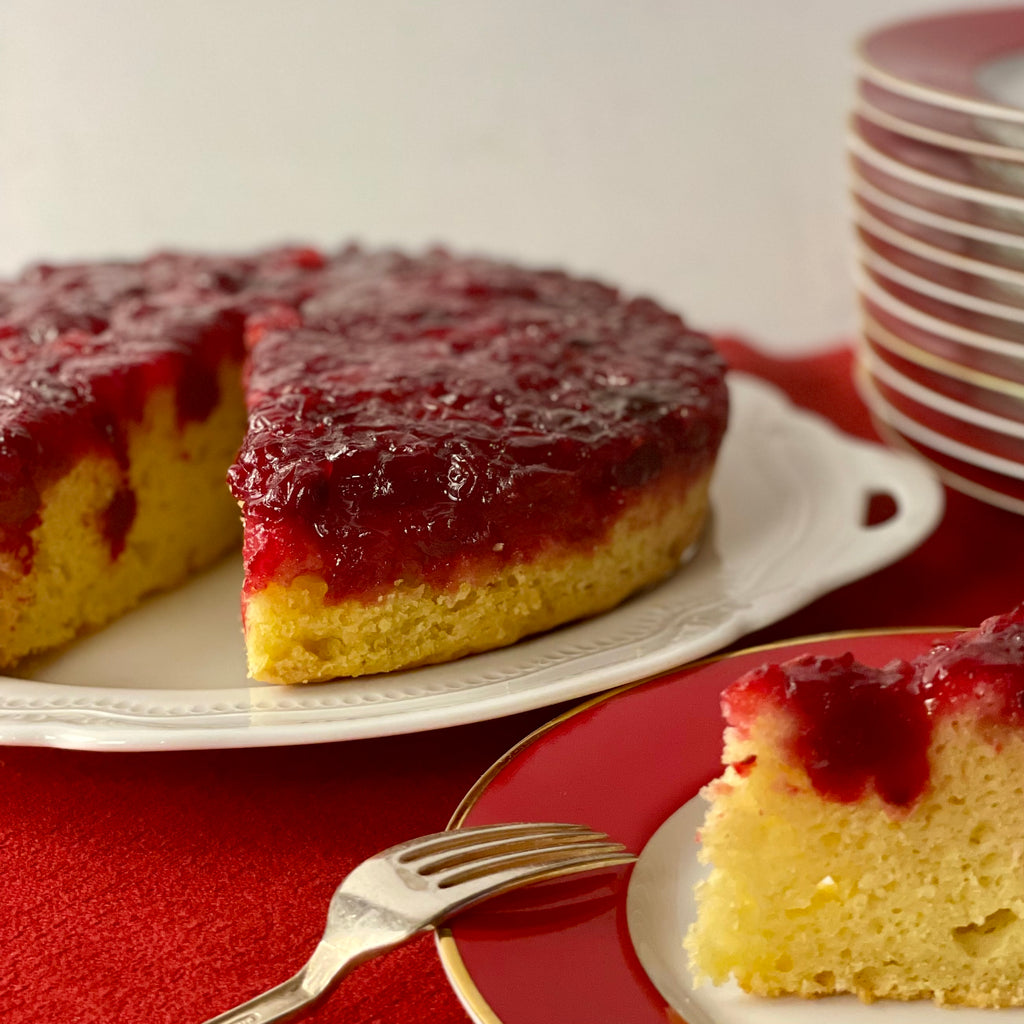 Last summer Donald started making an olive oil cake with fresh fruit fairly often, and it was so simple and delicious that I asked him to develop this recipe as a holiday variation.
It's a festive fruity make-ahead cake you might bring out to enjoy on Christmas morning--if you're not already indulging on panettone French toast, that is! What makes this recipe special for me is the addition of almond extract and the wintery combination of cinnamon, cloves, and star anise in the cooked cranberry topping. Happy Baking!  - Liz
Spiced Cranberry Sauce Recipe
12 oz package of fresh cranberries 
1 cup sugar
1 cup water
1 stick of cinnamon, about 3" in length 
3 whole cloves
1 Star anise (optional)
Rinse cranberries, drain, and add to a saucepan. Add sugar, the whole spices and water. Stir and bring to boil over high heat.
Once the mixture comes to a boil, reduce heat and simmer on low until the berry skins pop. About 10 minutes.
Cool completely. Remove the whole spices before using. Spreading the sauce on a big plate helps with finding the spices. 
Olive Oil Cake Recipe
1 ¾ cups all purpose flour
2 tsp baking powder
¼ sea salt
3 large eggs
¾ cup granulated sugar
½ cup whole milk plain Greek yogurt
Butter for greasing the pan and parchment
2 tsp vanilla extract
½ tsp almond extract
½ cup Lucero Arbequina EVOO or other mild olive oil
1 ½ cups cooked cranberries, per the instructions above.
Position your oven rack in the middle and pre-heat it to 350ºF. Butter the bottom of an 8" cake pan, fit an 8" round of baking parchment on top of the butter, and butter the parchment liberally also.
Whisk together the flour, baking powder, and salt in a medium sized bowl, and in a large bowl whisk the eggs and sugar until well combined and lightened in color. Add the yogurt and both vanilla and almond extracts, combining well, then whisk in the oil until the batter is consistent. Add the flour mixture and combine gently.
Spread 1 ½ cups of the cooled cranberry sauce you prepared ahead onto the bottom of the cake pan, covering it evenly. Pour the batter on top of the cranberry sauce and bake 40 to 45 minutes until a cake tester come out with just a few crumbs attached.
Cool cake on a wire rack for 10 minutes, then run a butter knife around the pan to loosen the sides before inverting the cake onto the rack and removing the pan. Allow to cool completely before slicing and serving. [Pro tip: drizzle a few tablespoons of olive oil on the top for extra shine before serving].
Whether for Christmas morning or as a simple festive cake, this might be a nice activity a day or two ahead of Christmas to have at the ready for noshing Christmas week. We hope you enjoy it!