December 28, 2022
Beef Cacciatore with Balsamic Vinegar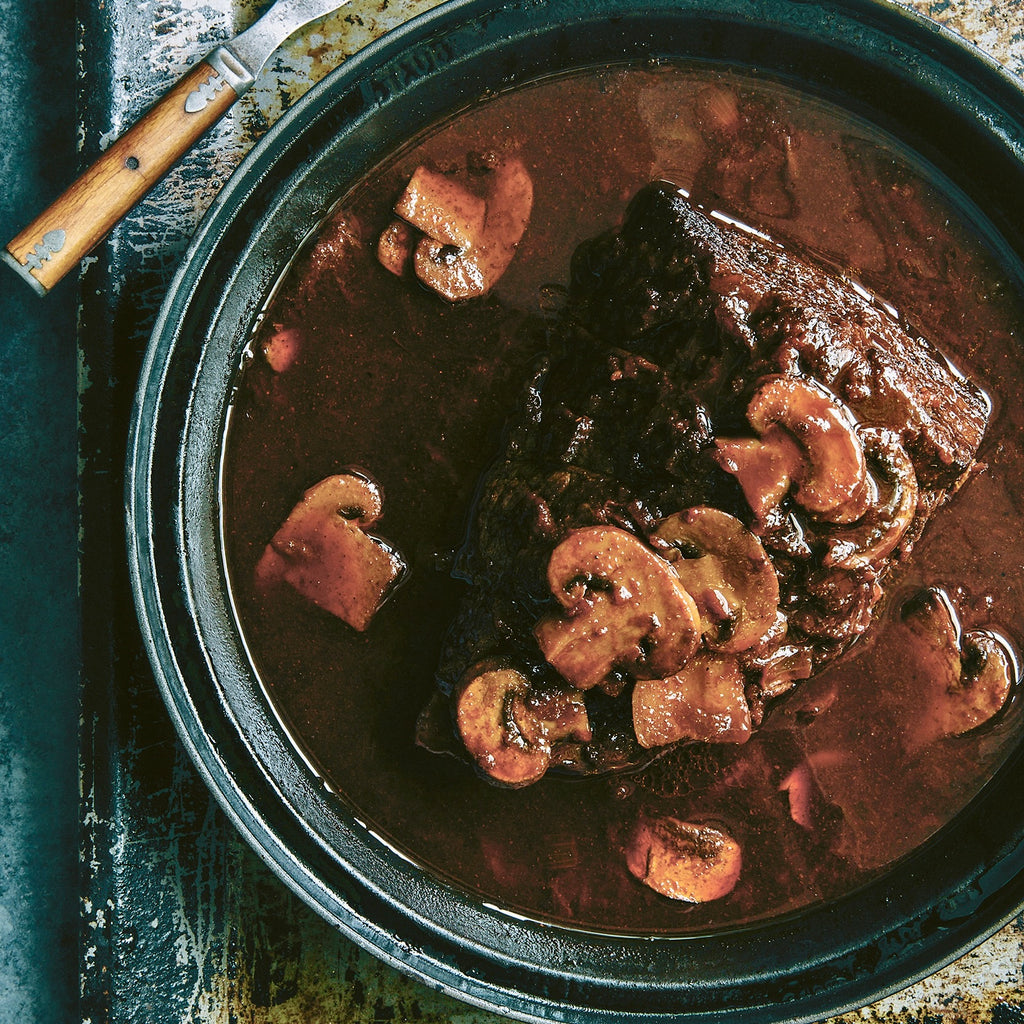 Here is another one of Emily's recipes from her "Recipes for Olive Oil and Vinegar Lovers" book series. My mom use to make chicken cacciatore for us growing up, so I was curious as to Em's beef version. Not only is beef substituted for chicken, but she's also using balsamic vinegar instead of wine or wine vinegar. This will add a different texture and some amount of sweetness not found in the classic version, and sounds mighty compelling. Her recipe specifically calls for fig balsamic vinegar, however, traditional balsamic vinegar is listed as a substitute. Did you know cacciatore is Italian for "hunter"? Beef Cacciatore is a hunter's stew. Happy cooking!  Liz
________________
This braised roast makes a lovely winter meal. The balsamic adds the most amazing touch—the Fig dark balsamic adds a touch of rich sweetness, although a Traditional balsamic can substitute for equally delicious results. You'll need an ovenproof, flame-proof pan for this. (I use a cast iron roasting pan or dish.) Serves 4 to 6 people.
Ingredients
3 to 4 lb beef rump roast
2 Tbsp chopped fresh rosemary leaves
Sea salt and ground black pepper
1 large yellow onion
2 cups button mushrooms
4 garlic cloves
3 Tbsp extra virgin olive oil
1 (28 oz) can whole plum tomatoes
2 cups beef stock
3/4 cup Melanzana Fig or Traditional Balsamic Vinegar
Preparation
Rinse the beef with hot water and pat it dry. Season with the rosemary and salt and pepper, and let sit for 5 minutes. Meanwhile, chop the onion, slice the mushrooms, and crush the garlic cloves with the flat side of a knife, keeping the cloves whole.
Heat the ovenproof, flame-proof pan over high heat and drizzle in the olive oil. Sear the roast on all sides. Don't rush this process—allow it to brown fully and evenly, including the ends. Remove the roast from the pan and turn down the heat to medium.
Place the onion and garlic in the pan and sauté them in the beef drippings (add 1 Tbsp olive oil in the unlikely event of the pan being dry) until just translucent, then add the mushrooms and cook until the mushrooms start to soften, 3–5 minutes.
Pour the juice from the tomatoes into the pan and stir to gently scrape off any bits from the bottom of the pan. Gently crush the tomatoes in your hands before adding them to the onion-mushroom mixture. Continue to sauté the mixture for 3–5 minutes, just until the tomato juices begin to reduce and the sauce starts to thicken.
Preheat the oven to 350ºF.
Remove the pan from the heat. Nestle the roast into the mushroom mixture. Pour in the beef stock and the balsamic vinegar and cover tightly with a lid or foil.
Bake until the internal temperature of the roast reaches 160°F, 1 ½ hours. Let the roast sit for 10–15 minutes before carving. Serve with a spoonful of braised mushrooms on the side. 
Note:  If you want to cook this while you're out, place the roast in the bowl of a crock pot, cover with the mushroom mixture, and pour in the balsamic and stock as directed. Cover and cook for 6–8 hours on low. Let sit for 15 minutes before carving.
The image of Beef Cacciatore with Balsamic Vinegar and this recipe is from page 113 of Italy:  Recipes for Olive Oil and Vinegar Lovers© 2017, Emily Lycopolus. Reprinted with the permission of TouchWood Editions.