November 30, 2022
Tortilla de Patatas (Spanish Tortilla)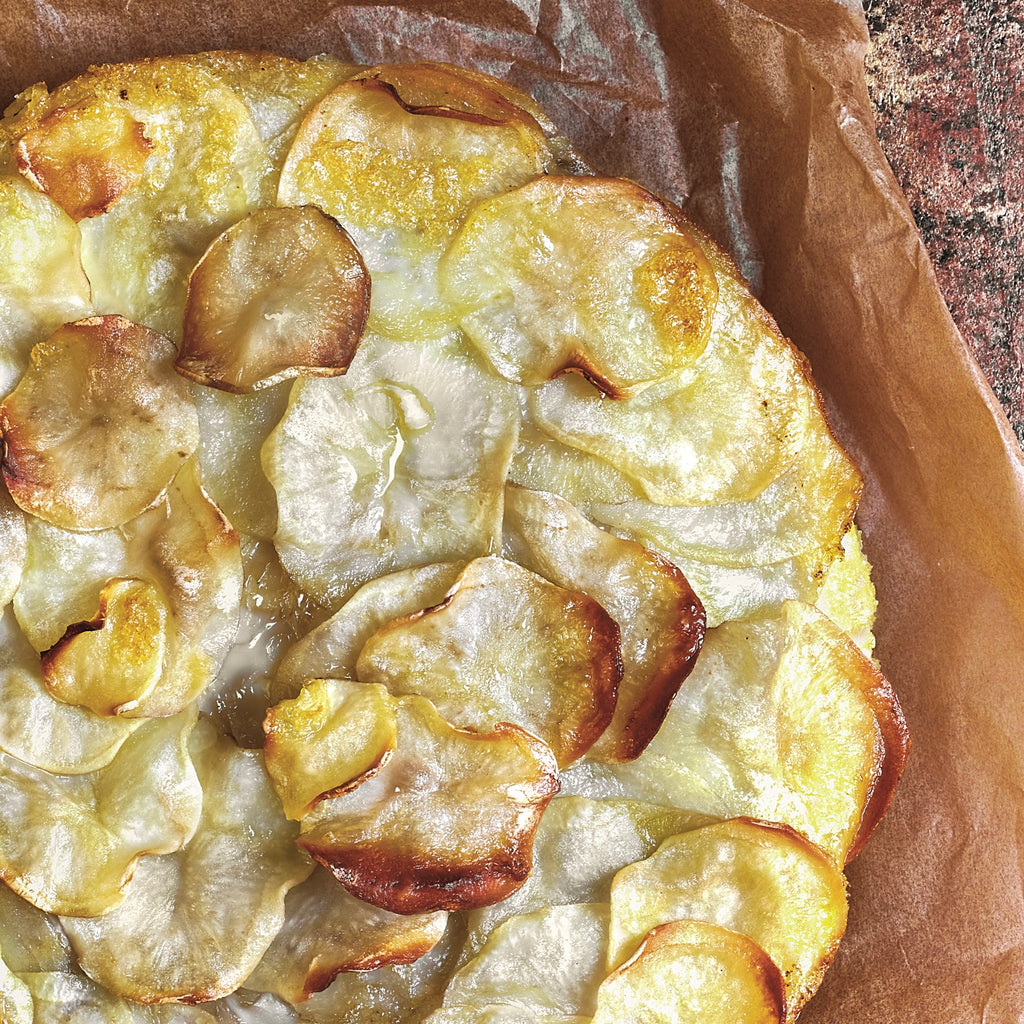 This classic dish is as simple as it is delicious. Serve with aioli or chilled with a meat and cheese platter.
Ingredients 
4 large potatoes (Yukon gold or russet are best for this)
1 white onion
½ cup + ¼ cup Lucero Ascolano Extra Virgin Olive Oil
8 eggs
1 Tbsp water
Sea Salt and cracked black pepper
Making Eggs Light and Fluffy
Adding the water while whisking the eggs means they'll be light and fluffy after cooking. The steam creates air pockets, which in turn create an extra-fluffy texture. This is a great way to scramble eggs. 
Preheat the oven to 350°F
Peel the potatoes and slice them thinly and evenly. (I use a mandoline set at 1/10 inch.) Slice the onion into rounds or half-moon shapes as thin as the potato slices.
In a large ovenproof frying pan, heat the first half cup of olive oil over medium heat. Add the onions and then the potatoes. Sauté for 3–5 minutes, using tongs to flip the potatoes to ensure even cooking.
When the onion is translucent but not brown and the potatoes are fork-tender, not falling apart, remove the frying pan from the heat and set aside.
Allow the potatoes and onion to cool in the pan for 5–10 minutes while you prepare the eggs. In a large bowl, whisk together the eggs, water, and the other ¼ cup of olive oil until light and frothy.
Ease the potatoes and onions in the frying pan in a single layer. Pour the egg mixture over the top and sprinkle with salt and pepper to taste. Lift a few of the potatoes around the outside edges to ensure that the egg mixture has seeped underneath to coat the bottom of the pan.
Bake the egg mixture for 35–40 minutes, until the top is firm and a toothpick inserted in the center comes out dry with only a few potato crumbs on it. Remove the pan from the oven and run a knife or spatula around the outside of it to loosen the egg.
Let rest for 10 minutes, then place a large serving platter or cutting board over the top of the frying pan; carefully (with oven mitts on!) flip the pan over to turn the tortilla onto the platter.
Cut into wedges and serve warm. This will keep in an airtight container in the fridge for up to 4 days.  Reheat it in a 350°F oven for 10 minutes.
The image of Spanish Tortilla (Tortilla de Patatas) and this recipe is from page 25 of Spain:  Recipes for Olive Oil and Vinegar Lovers© 2018, Emily Lycopolus. Reprinted with the permission of TouchWood Editions.