November 20, 2022
Last Minute Balsamic Vinaigrette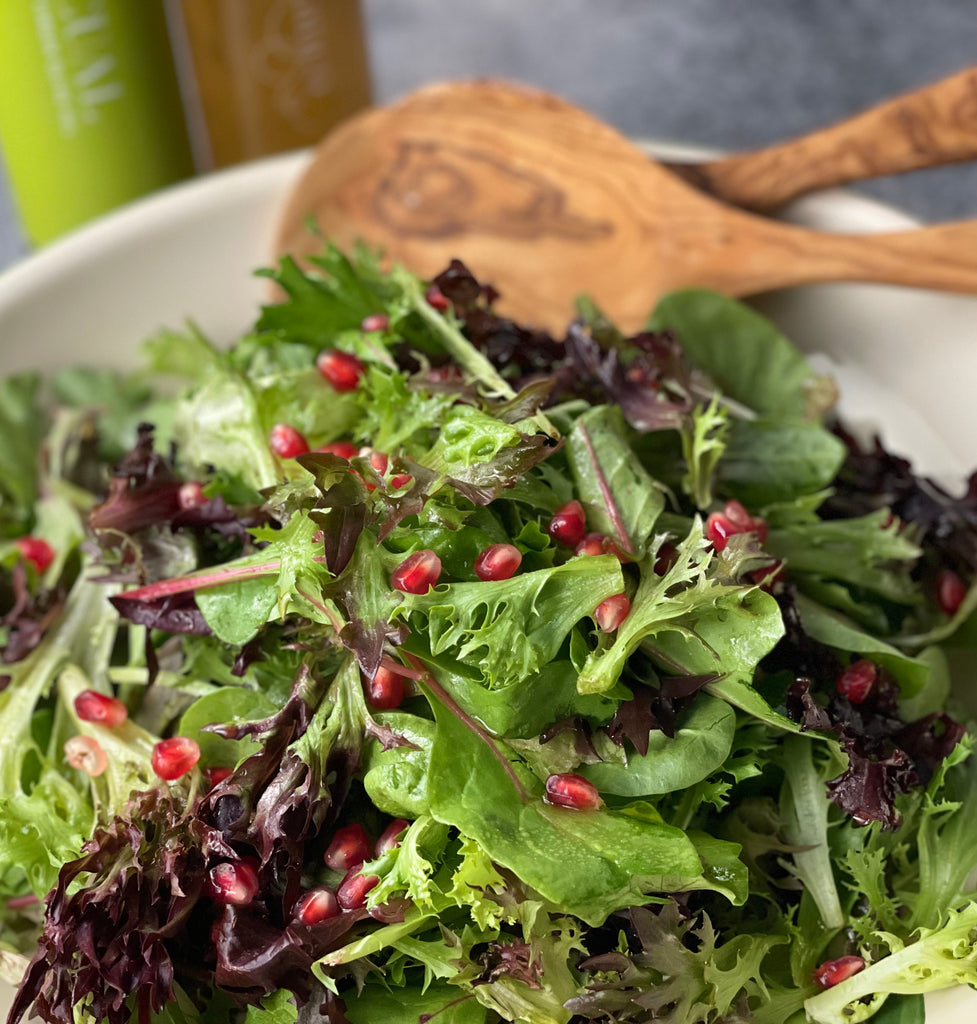 Here are some thoughts about last minute dressings. The salad shown above is composed simply with mixed greens and  pomegranate seeds from our tree out front. We chose the Bianco, although the Rosato Balsamic Vinegar works equally well.
Quick & Easy White Balsamic Vinaigrette 
Folks used to call it French Dressing, however, today we say vinaigrette. Classically made with a 3:1 ratio oil to vinegar for an easier emulsion and lower sweetness level, however, folks seem to prefer 2:1 from a flavor point of view. That's the ratio chosen here.
Prep Time:  5 to 10 minutes. Serves 8.
Ingredients
1 cup EVOO. We used Picual.
2 Tbsp Country (grainy) Dijon Mustard.
Sea Salt and freshly ground pepper to taste
Techniques
Here's the good part; there's no way to go wrong. If you have a child or grandchild helping in the kitchen, one of these techniques will work; you may just have to help them measure. If you have an adult helping or are doing this yourself, this is also a personality test.
Bowl & Whisk
Ah. Gone are the days, it seems, when we'd put all ingredients in a bowl except the oil and slowly whisk it in to form an emulsion.*  I'm curious:  are you Old School and whisk by hand? #Classic
Full Immersion
Have you converted to using an immersion blender? They're awfully compelling. Place everything in a jar or the large measuring cup that came with the blender and emulsify! #Modern
Peanut Butter Jar
It seems the older I get, the more I rely on old peanut butter jars; they've turned into drinking glasses, storage containers, a whipped cream maker, and a vinaigrette maker. Put all ingredients in a jar with a tight fitting lid and shake vigorously. Shake like Tom Cruise in Cocktail. Have fun with it. As long as the lid is tightly fitting this would be quite fun for a child or guest...or could devolve into a hilarious mess. #Iconoclast
(*) I just found out that Donald always uses a bowl and straight whisk. Huh.
Inspiration
I aspire to a write a future post or posts about variations with alternate acids, herbs, condiments, et cetera, however, not today. There are so many good resources out there anyway. Instead, here is every combination of oil and vinegar we offer today (except the Novello, I forgot that).
Which combinations are winners? Which combinations are whacky? I'd love to hear if something notable caught your eye or if you have a favorite recipe you'd like to share with others here in our "convivium" at American Olive Farmer.
Happy Thanksgiving. I appreciate you!  - Liz
Vinaigrette Select-o-matic
Can't decide what to make tonight? Rate these combinations and perhaps you'll find some inspiration. 5 = Yes, please!  3 = Perhaps just this once.  1 = Ugh. No, never.