November 09, 2022
Glazed Brussels Sprouts & Bacon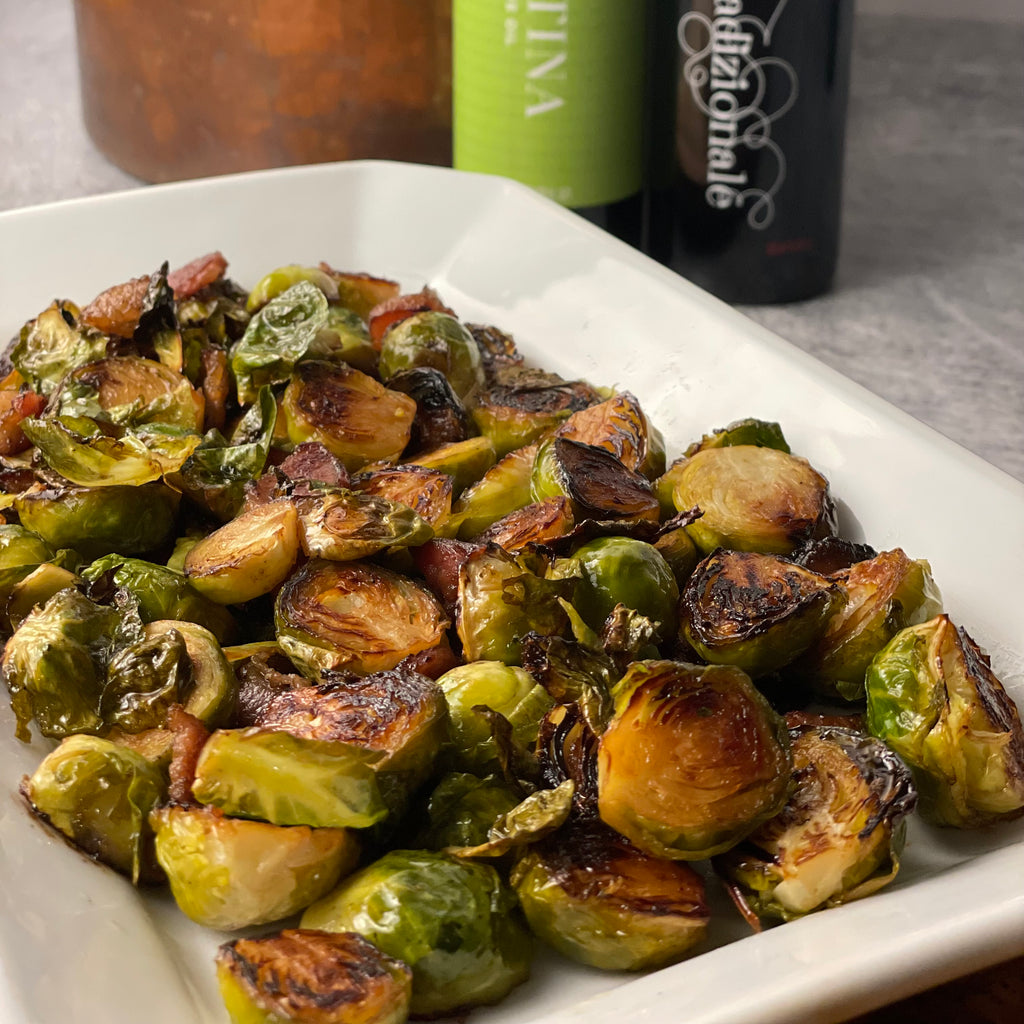 Brussels sprouts are in season and are excellent as a Thanksgiving side dish. Purchase them on the stalk, if possible. If your greengrocer offers them loose, choose firm sprouts and avoid softer ones. We've updated our recipe from November 2017 to include vinegar earlier in the process and have added honey to round out the flavor. The sugars in both honey and vinegar mean keeping a watchful eye on the oven to avoid over browning or burning. Take care, and please enjoy!
Ingredients 
1.5 pounds Brussels sprouts, rinsed, dried, trimmed, and cut into halves or quarters as needed for uniformity
4 oz Canadian bacon, diced into 1/4 inch pieces
1/4 cup Lucero Extra Virgin Olive Oil 
Sea salt, such as Jacobsen's Kosher Salt, to taste
Freshly ground black pepper to taste
1 Tbsp. Traditional Balsamic Vinegar
1 Tbsp. local honey, such as Olivares Chico Honey
Instructions
Preheat the oven to 400° F
Place the trimmed and cut brussels sprouts on a sheet pan. It's okay to include some of the loose leaves, which become crispy when roasted.
Add the bacon, olive oil, honey, and balsamic vinegar. 
Toss thoroughly to mix the ingredients, and spread onto the sheet plan in a single layer. The more sprouts you position cut side down, the more surface area will be available to be caramelized.
Roast the Brussels sprouts for 20 to 30 minutes, until they are browned and tender and the bacon is cooked. It's important to check at 15 minutes to make sure the Brussels sprouts are not getting too brown, and to toss once during roasting. Use a spatula to loosen the sprouts from the pan to check the color, and turn them over if they're getting too dark.
Remove from the oven, taste and adjust seasonings. Drizzle additional olive oil to give the finished dish a nice shine and a fresh green flavor before serving. 
Serve hot.