November 01, 2022
Olive Oil Mashed Potatoes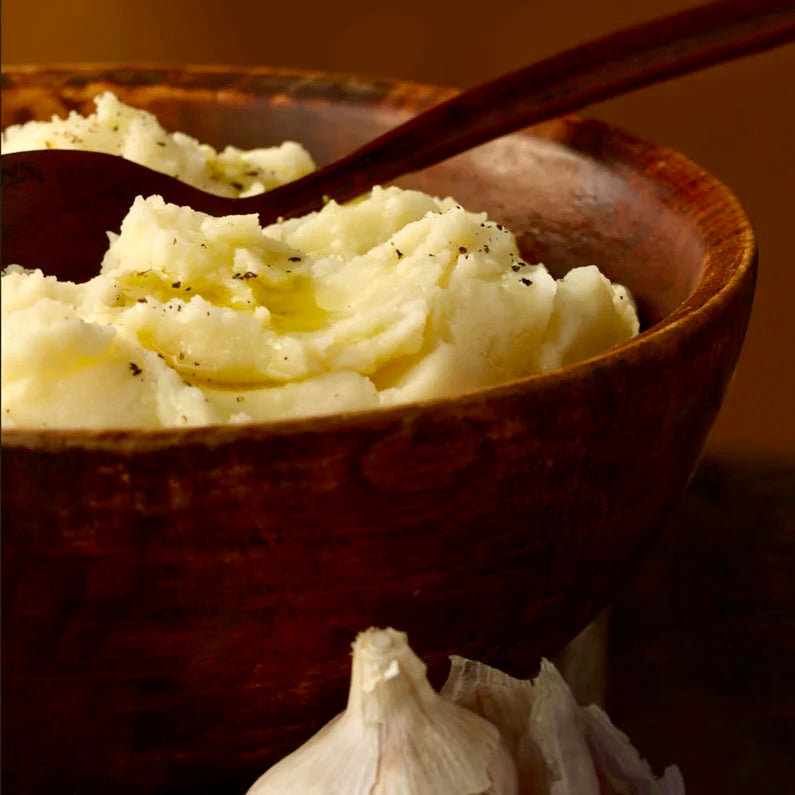 Shorter days and busier schedules have us all seeking simple solutions, and that's why olive oil mashed potatoes are a favorite side dish. You likely have a go-to mashed potato recipe, however, I'm publishing an olive oil version as a quick reference as you prepare for holiday entertaining. The recipe yields enough for 4 to 6 people.
5 Simple Ingredients
2 lbs Yukon Gold potatoes
6 to 8 garlic cloves, peeled
1/2 cup EVOO or garlic olive oil (we recommend
Coratina
)
2 tsp sea salt, plus more to taste
freshly ground pepper to taste (optional)
7 Easy Steps
Peel, wash, and cut potatoes into 2 inch pieces
Bring 4 quart saucepan to a boil, then add potatoes, garlic, and 2 tsp salt
Simmer 15 to 20 minutes or until a fork can be inserted easily
Drain potatoes and garlic, reserving 1 cup of the cooking liquid
Mash potatoes by hand with a potato masher, or run them through a ricer or food mill if you have one
Stir in half of the olive oil (¼ cup) along with the reserved potato water as needed until the mash reaches a soft consistency; you may not need all of it. Taste for salt at this stage, and add more if needed, along with freshly ground pepper, if desired
Transfer into your serving bowl and pour the remaining ¼ olive oil on top, or substitute Roasted Garlic Oil for the final ¼ cup to add a layer of roasted garlic flavor
1 Watch Out
Do not overwork the potatoes as they will be glue-y.
Please enjoy!