February 27, 2023
Caramelized Apple Olive Oil Cake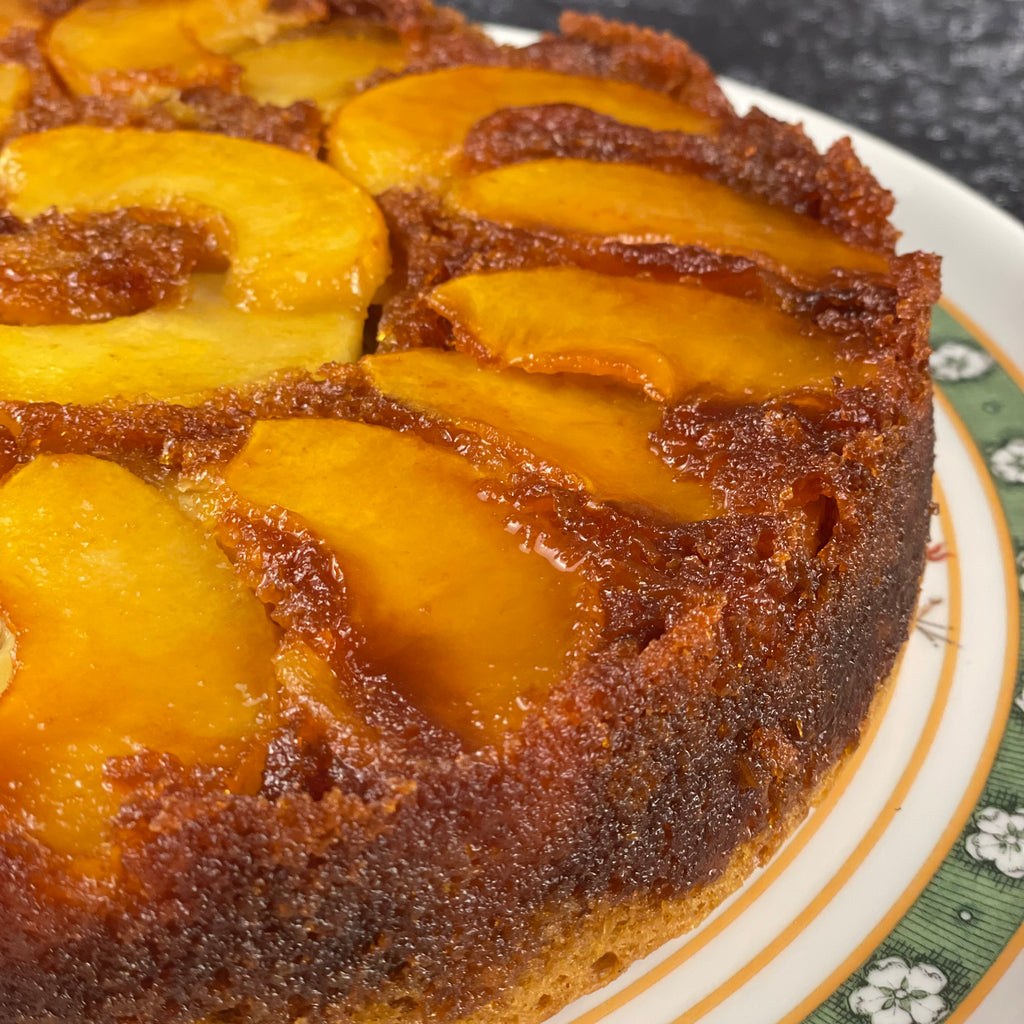 This is the sort of recipe I'd typically post during the fall at the height of apple season, however, apples are still in the shops, and we were looking for something sweet last weekend with only two apples in the larder. The cake itself is simple, only the caramel might be tricky if you've not worked with sugar in this way before.
Donald used the apples we happened to have on hand, one each Fuji and Cosmic Crisp. Other varieties that would be suitable include Honey Crisp, Jonagold, or McIntosh--anything that will hold its shape. I somehow grew up thinking that only tart green Granny Smith apples were useful for baking, however, many pies, crisps, tarts, and cakes from Donald later, I realize that there is a world of possibilities out there. 
The apples you choose to use will be arranged on the bottom of the pan over the caramel and will appear on the top after the cake is baked and inverted. 
Recipe
Ingredients for the Caramel
¾ cup sugar
1 Tbsp butter
2 tsp vanilla
2 large crisp apples, peeled, cored, and sliced neatly into about ½ inch pieces 
Ingredients for the Cake
½ cup sugar
¾ cup olive oil (we used Lucero Picual) 
1 cup all purpose flour 
½ tsp baking soda
4 ounces cream cheese room temperature 
3 large eggs
2 tsp vanilla  
Instructions
Preheat oven to 350 ̊F (170 ̊C) and liberally butter a 9-inch springform pan 
For the Caramel
Heat ¾ cup of sugar over medium-low heat. Do not stir, continue cooking, swirling the pan frequently (but carefully!) to promote even melting and caramelization of the sugar. Once the caramel is deep golden brown and the sugar is completely melted add the butter and vanilla and carefully swirl once more. Remove from heat and immediately pour into springform pan before it firms.
Caution: caramel is very hot and can cause serious burns! Proceed with care when adding to, swirling, pouring, and all in handling of caramel. 
Arrange apple slices on top of caramel in a circular pattern. Set aside.
For the Cake
Beat together the ½ cup of sugar and cream cheese until smooth. Add the olive oil and beat until well combined. Add the eggs, one by one, beating well and scraping down the sides of the bowl as needed. Stir in the vanilla.
Sift together the flour and baking soda into a small bowl, then add to the batter gradually, stirring until just moistened. Gently spread the batter over the apples and caramel.
Bake at 350 ̊F (170 ̊C) for about 40-50 minutes or until golden and a toothpick or skewer inserted in the center comes out clean. Remove from oven and cool for 10  minutes. The cake needs to be somewhat warm when unmolding so the caramel doesn't firm up too much. Carefully invert the warm cake onto a cake platter. If some of the apples stick to the pan carefully remove them and add them to their missing location on the cake. If some of the caramel did not melt into the apples and is still stuck on the pan remove it and melt it with a few tablespoons of water until liquid. Pour this melted caramel over the cake for added moisture.
Enjoy this cake as a treat after breakfast or any time you'd like a bit of sweet with a hot coffee or cup of tea. We love that you leave comments! Please know you're always welcome to be in touch should you have questions about cooking or baking.  
- Liz & Don