November 19, 2022
The Ideal Sourdough for Olive Oil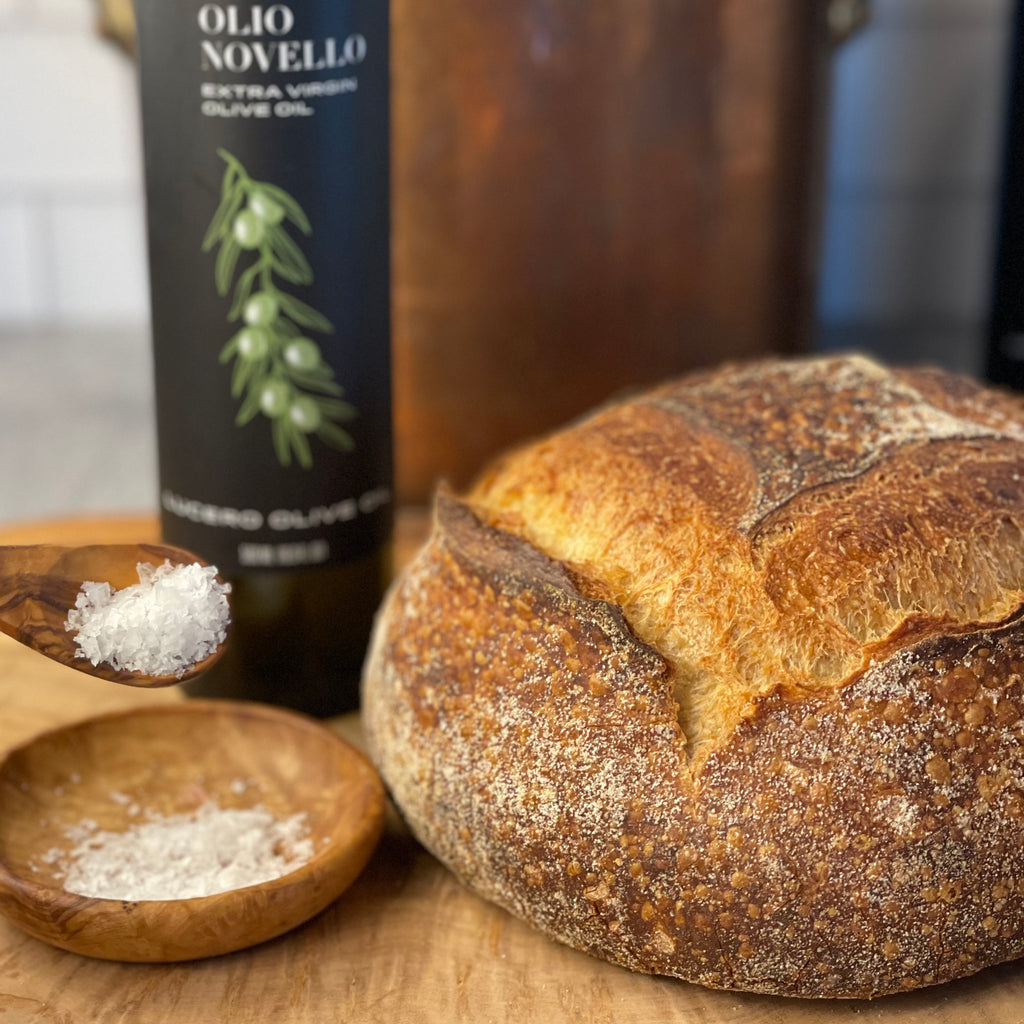 Bread Quest
What is the ideal bread for enjoying olive oil? I have enjoyed many, and one especially memorable experience happened 75 minutes west of Firenze on a cold November day many years ago, the air full of the heady mist of fresh olive oil from several large olive mills surrounded by dozens of local farmers waiting for their oil to be delivered to them.
We sat together and enjoyed simple fresh country bread accompanied by roasted meats and vegetables, all three adorned with nothing but Olio Novello and good salt.
I hoped to conjure the chewy crusty goodness of this memory with my photography, and to do that I called my friend and colleague Dan Flynn, a dedicated home baker. He rose at 0500 to bake two loaves for me, then we each drove 2 hours round trip to rendezvous at a bread-for-oil exchange in a restaurant parking lot.
Standing in the cold and marveling at how such simple things as bread and oil can be so sublime, I asked Dan to write a few words about his bread because choosing the right one makes it very much a co-star to Olio Novello. I am a native Californian who grew up on SF Bay Area Sourdough, and what he shared about flavor was an "a-ha" moment for me. I hope your winter gatherings include good friends, Olio Novello, fresh crusty bread from your own kitchen or a local artisan baker, and sea salt!  FYI, If you need a resource, I understand Tartine Bakery ships nationwide.
Here are a few words from Dan about bread.  - Liz
Tartine Style Sourdough Country Loaf
The country loaf popularized in recent years by San Francisco's Tartine Bakery has inspired countless bakers worldwide.

For me the appeal lies in the loaf's push-and-pull. There's the deeply burnished, blistered and crackling crust contrasting with an ultra-hydrated, aerated and custardy crumb. The appearance pairs a rustic simplicity with an astounding variety of hues and textures. The production method is simple yet demands skill, vigilance and practice. There is the long, slow fermentation process, followed by impatient, reckless consumption of slice after slice.

To make the bread at home get a copy of Tartine Bread by Chad Robertson and a cast-iron Dutch oven or combo cooker. I found my learning curve to be long and frustrating, with the wet dough difficult to handle and the goal of an open crumb elusive. I've gotten pretty good at it now. Flour performance varies considerably. Like extra virgin olive oil, I learned that flour is not just a generic commodity.

With just three simple ingredients; wheat, water and salt, the bread is worthy for dipping into fresh olive oil. Ordinary San Francisco sourdough leans into the vinegary end of sour and can overpower the flavor of the oil. In contrast, the Tartine method deploys a young starter that features a sweeter, yogurt-like acidity, allowing the oil's fruitiness to shine. People who think that they like don't like sourdough do like this sourdough.

Robertson's book includes a recipe for a grilled cheese sandwich. Cooked in extra virgin olive oil in a cast iron pan, the bread's contrast between crisp and soft is propelled into another dimension. I never get tired of eating this sandwich.
Dan Flynn was the founding executive director of the UC Davis Olive Center from 2008 to 2021, which is a global leader in olive research and education. He oversaw olive oil production for UC Davis as part of the center's self-supporting activities and is the former owner and manager of an organic farm in the Sierra foothills. Currently, Dan volunteers as global ambassador for the World Olive Center for Health in Athens, is an advisor for the Hellenic Center of Excellence in Health and Wellness, and a member of the Applied Sensory olive oil tasting panel in Northern California.